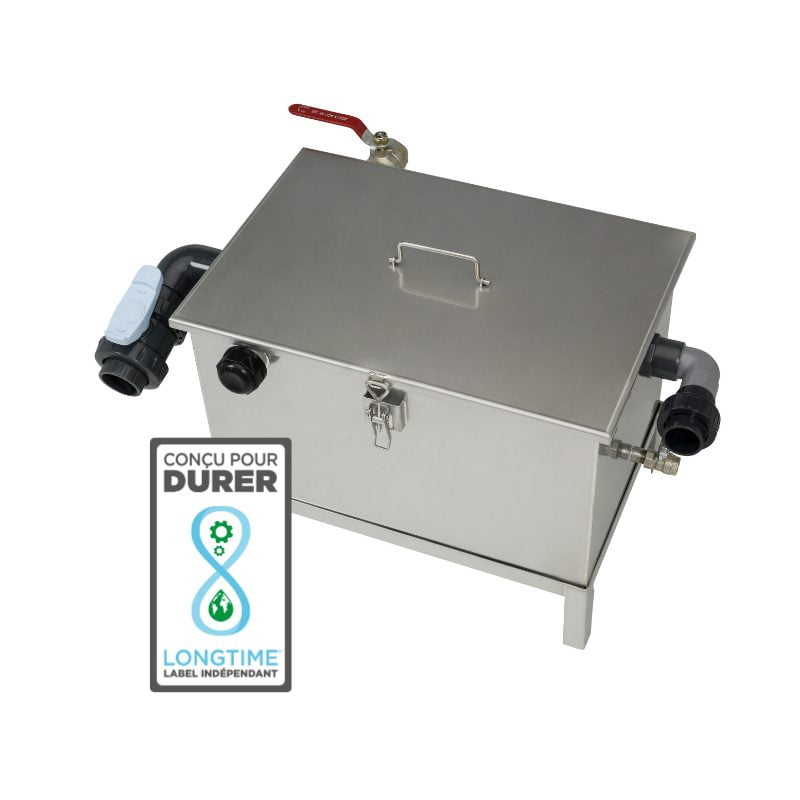 Intended for catering and hospitality professionals, the BAGT range of under-sink grease traps are now LONGTIME®-certified. Thanks to their reliability, robustness and repairability, the BAGT grease traps can now display the LONGTIME® logo and the slogan « Designed to last ». The entire BAGT range Compact, 80N, 200N, 400N and beyond is covered by a 10-year manufacturer's warranty and a 10-year spare parts availability, satisfying the criteria of the most demanding professionals. Flexible, compact, easy to install and to clean thanks to the Grease Back system, the BAGT range is the undisputed ally of professionals who have to comply with sanitary regulations related to wastewater treatment. The manufacture of high quality stainless steel (304L), the reliability and the tightness of the welds as well as the robustness of the closing mechanisms and the carrying handle make it possible to consider the use of BAGT grease traps in the very long term.
BAGT Compact, 80N, 200N, 400N
10 ans
Availability of spare parts
February 2021
à February 2024
Our products are designed to last. With many years of experience, we know they last a long time without breaking down. In the sustainable development spirit, it is important to take into account the cost of waste management and recovery. This LONGTIME® approach will reassure our customers about the cost of managing their greasy waste.