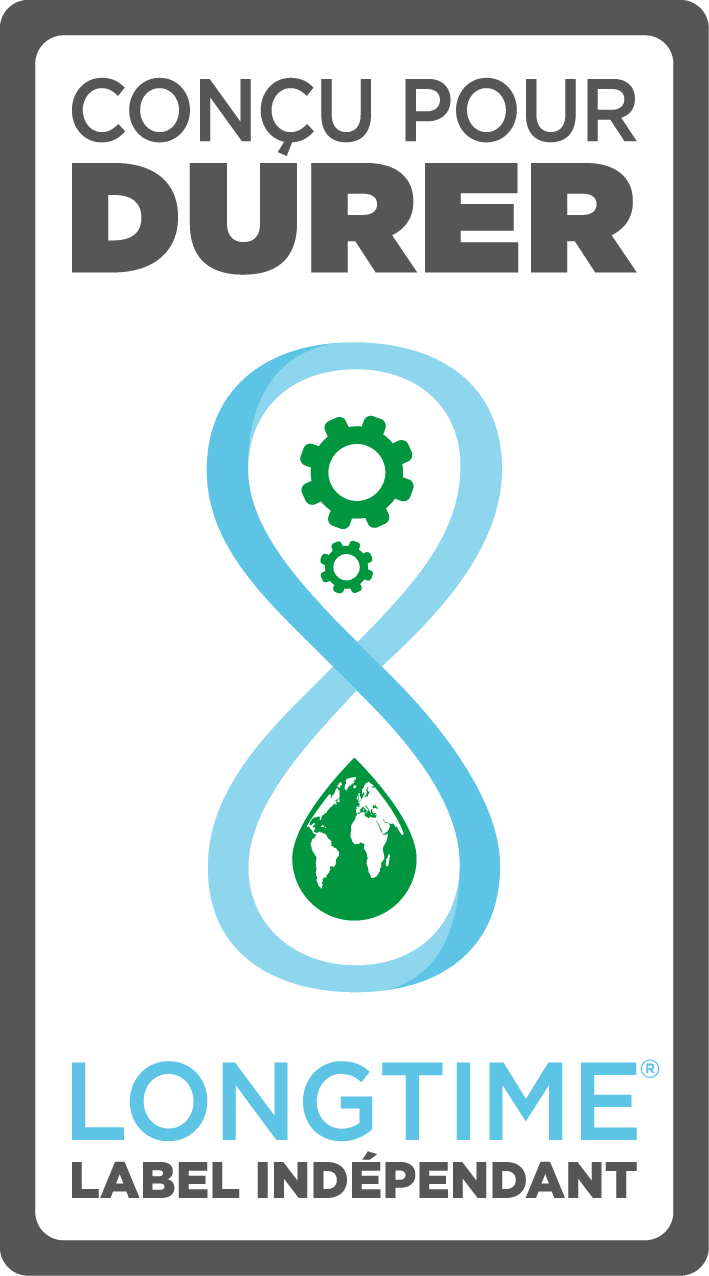 You're expecting one (or more) happy events and you've managed to make a baby's room before the birth, choose a bed, mattress and rails and put them up without breaking everything, but when it comes to ticking the baby monitor box, you're a bit stumped. It's normal, don't panic!
When it comes to certain products, the world of childcare can seem slightly confusing, with such a vast range of products, brands and price ranges. And that's the case for baby monitors! Between audio baby monitors, audio-video baby monitors, analogue or digital, with or without a monitor...the range of choices is vast and it's not always easy to choose and know which are the best baby monitors on the market.
Would you like to buy or give as a gift a baby monitor that meets your expectations and is also reliable and durable? We're here to help;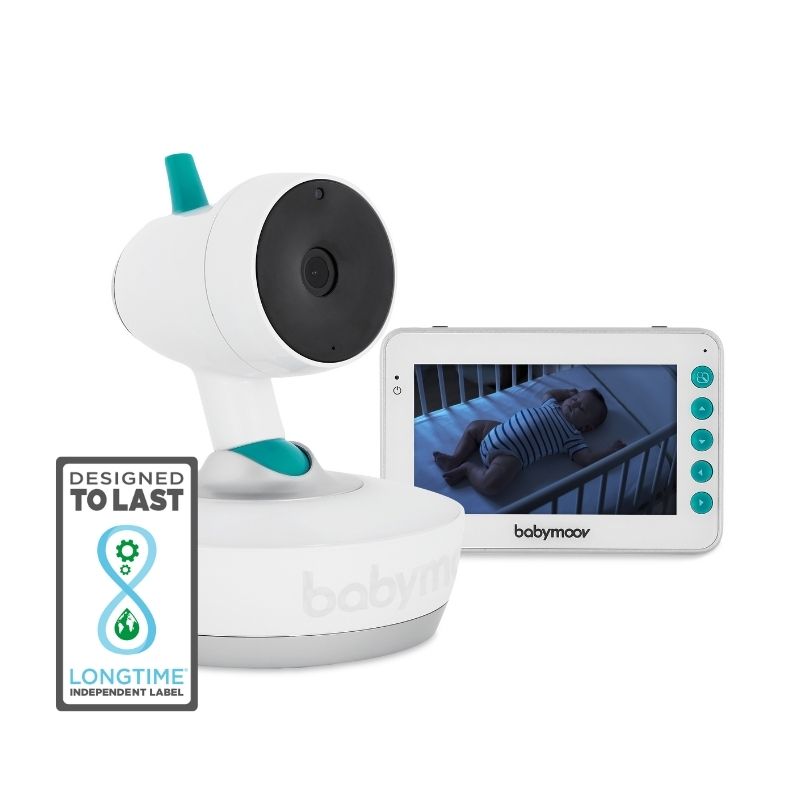 Because we believe that knowledge is power, let's get a little technical. If the rest of this article seems a little complex, simply put your trust in the LONGTIME® label. A range of baby monitors recently received the label after being independently assessed against our 41 sustainability criteria.

What's more, they're made in France!
How does a baby monitor work?
If you want to put your mind at rest and be able to keep an ear and an eye on your little one when he's asleep (or when he's sensible!), a baby monitor is the ideal tool. Installed in your baby's room, next to the changing table, it will allow you to check that your baby is sleeping safely or to keep an ear on him while you give the older child a bath. It also means you don't have to intervene unnecessarily during the short phases of wakefulness that are normal during babies' sleep.
But what is a baby monitor and how does it work?
Babyphones, or "baby monitors" in English, are portable transceiver-type communication devices characteristic of radio broadcasting equipment.
How audio baby monitors work :
On the whole, audio baby monitors are similar to walkie-talkies (thanks Donald Hings).
They are systematically made up of two elements, a transmitter and a receiver. The transmitter is the unit you place in your baby's room, the receiver is the module you keep close to you.
Using a microphone, the transmitter picks up your child's sounds and converts them into waves (analogue or digital) to transmit over a range of predefined frequencies. This series of waves or signal is intercepted by your babyphone's receiver module;
The receiver then decodes this information and converts it into a comprehensible sound signal, broadcast via the receiver module's loudspeaker.
How video baby monitors work
Video baby monitors, sometimes called babycams, work on the same principle as audio baby monitors.
They consist of two modules: a transmitter module equipped with a microphone and camera, and a receiver module equipped with a loudspeaker and video screen.
Similar to an audio baby monitor, the transmitter module picks up your baby's sound and image and converts them into an exclusively digital signal, broadcasting it over a predefined frequency range.
The receiver intercepts this digital signal, decodes it and broadcasts it via the monitor and loudspeaker to keep you informed of your baby's movements. It can also display additional data, such as temperature and humidity.
The anatomy of a baby monitor
What would the exploded view of a baby monitor show us?
A baby monitor consists of two modules, a transmitter and a receiver. Here are the details of the different components.
Anatomy of the audio babyphone transmitter
As a minimum, an audio babyphone transmitter module without camera includes the following components:
One shell (consisting of two ½ shells, battery hatch)

An electronic board

A receiver microphone

An analog or digital transmitter module

A transmitting antenna

Battery, accumulator, cells

Controls (On/Off, VOX or continuous mode, frequency selection, sensitivity)

Indicator lights (operation, battery, transmission)

Connection port (mains plug)

A receiver module (optional, present in bidirectional communication models)

Loudspeaker (optional, present on models with two-way communication)
Anatomy of the audio babyphone receiver
Here are the recurring components that can be identified on a camera-less audio babyphone receiver module:
One hull (composed of two ½ hulls)

An electronic board

A loudspeaker

An analog or digital receiver module

A receiving antenna

A battery

Controls (On/Off, volume, channel selection)

Indicator lights (operation, battery, reception)

Connection port (mains plug)

A transmitter module (optional, present in bidirectional communication models)

Microphone (optional, present on models with bidirectional communication)
Anatomy of the video baby monitor transmitter
The transmitter modules of video baby monitors incorporate some of the features of audio baby monitors, but with more technology:
A shell completed with a support or stand
One or more electronic boards

A receiver microphone

A camera

LED backlights (optional)

A digital transmitter module

Battery, accumulator, cells

Controls (On/Off, VOX or continuous mode, channel selection)

Indicator lights (operation, battery, transmission)

Mains port (jack, USB port...)

Sensors (motion, noise, brightness, temperature)

A rotary motor (optional, present on camera modules that can follow movements)

A receiver module (optional, present in bidirectional communication models)

Loudspeaker (optional, present on models with two-way communication)
Anatomy of the video baby monitor receiver
The receiver module for video babyphones is a video monitor whose design really differs from the receiver modules for audio babyphones. It is commonly found in :
A hull (front and rear covers)

One or more electronic boards

An lcd digital display

A loudspeaker

A digital receiver module

A battery

Controls (On/Off, VOX or continuous mode, frequency selection, sensitivity, volume, camera rotation)

Connection port (mains plug)

A transmitter module (optional, present in bidirectional communication models)

Microphone (optional, present on models with bidirectional communication)
How do you check a baby monitor's reliability and robustness?
How do you choose a baby monitor that's sturdy, reliable, repairable - in a word, durable?
To ensure you make a safe and reliable purchase, there are a number of features and elements that should catch your attention. To help you, we'll take a look at the quality markers of a quality baby monitor.
Babyphone transmission and reception modules:
These are the main components of babyphones, and the physical principle is basic, involving the transmission and reception of analogue or digital waves. These technologies are now clearly mature, and the risk of failure is low. On the other hand, the manufacturer's knowledge will be crucial in ensuring that the signals are stable and clear.
The quality of the baby monitors' microphones and loudspeakers:
Many failures can be attributed to these components, ranging from a simple deterioration in sound quality, due to an altered loudspeaker membrane, to complete microphone failure.
High-quality microphones and loudspeakers are your guarantee of ease of use and long service life.
So beware of entry-level models and the quality of their components.
Audio/video baby monitor circuit boards :
Each baby monitor has a set of electronic components, all controlled by the main electronic board, whether on the transmitter module or the parent module.
The electronic board is the brain of your babyphone and is responsible for managing the power supply, understand and process information from controls and sensors.
The on-board electronics play a key role in the life of your baby monitor. The quality of the components, the quality of the design and the architecture of the board are crucial.
You should also bear in mind that the best electronic board in the world, equipped with the most reliable components but running on poorly developed internal software, will not give you satisfaction. On this point, the company's know-how and experience are essential.
Be absolutely sure to check out the company's policy on electronics: length of time electronic boards are available, possibility of component repair, reconditioned electronic boards, board protection against overcurrents... don't be afraid to ask questions!
The video baby monitor :
Today's LCD monitors are relatively reliable. However, it is possible for the screen to have dead pixels or a more general failure, but this is generally due to the electronic board or a shock! For this type of part, which is particularly vulnerable, we recommend that you check whether the monitor is fitted with protection, and also check the availability of this spare part.
Batteries for audio and video baby monitors :
The quality of the batteries is obviously an essential factor in the lifespan of your product. This is even truer for video babyphones, which are more energy-hungry and require larger batteries. It's difficult, if not impossible, to get information about the quality of the battery at the time of purchase, but you can look at the product's performance and autonomy. In any case, a battery is an item subject to wear and tear, and sooner or later it is bound to show signs of weakness. Make sure it's available and accessible.
NB: When it comes to durability, make sure the manufacturer of your babyphone has a high-quality after-sales service, providing technical information (e.g. repair tutorials) and ensuring the long-term availability of spare parts.
All LONGTIME®-labeled products are repairable, so don't throw them away.
Which baby monitor technology is right for you?
Audio baby monitor, video baby monitor, analog or digital, how to choose the right baby monitor?
There are a number of factors that can influence your choice of baby monitor. To find the baby monitor that's right for you, it's a good idea to consider a number of factors. You need to consider what's really important to you, as well as the constraints of your home. There are a number of features to consider, in particular
Wave emissions from baby monitors:
Almost all parents are concerned about the emission of waves.
We won't go into the details in this article, but if this is an important point for you, you should know that there are two factors that influence the spread of waves in your home.
baby monitor power and range
So, to reduce your child's exposure to the baby monitor's waves, choose a baby monitor with a medium range (400 m), or even a short range if your home is small, and select analog or digital green broadcast technology.
If your home is spacious, with a floor separated by a concrete slab or relatively thick walls, don't underestimate the power needed for your baby monitor to work properly. Don't hesitate to ask for advice from retailers, the manufacturer itself or the website's technical service.
There are other tips you can use to reduce exposure to radio waves, such as the "voice activation" function. Finally, check that the distance between the bed where your child sleeps and the baby monitor is greater than one metre, as a precautionary measure;
Living space and interference : Bear in mind that where you live can influence your choice of baby monitor. Analogue baby monitors operate by radio frequency, and the denser the concentration of people around you, the greater the risk of using the same transmission channel. In other words, if you're in the city, opt for a digital baby monitor.
On-board baby monitor technology :
Audio vs. video baby monitors
Whether you choose an audio or video baby monitor will depend on how closely you want to monitor your child. Audio baby monitors have the advantage of being less expensive, simpler in design and contain fewer electronics. Video baby monitors offer an extra level of surveillance and can be very useful when you have two children in the same room or want to check that your child hasn't got his arm or leg caught in the barriers. The downside is that they are more expensive and the number of potential faults is higher.
Another aspect to take into account is that for your video baby monitor to give you full satisfaction and not just be a gadget, it needs to be equipped with a quality camera capable of infrared operation and a high-resolution video surveillance monitor for a clear image of your child.
One-way or two-way babyphone
You have a split-level home or your child's bedroom is far from your living area and you want to be able to talk to your little one. In this case, two-way babyphones are just what you need. They feature a microphone on the parent module and a loudspeaker on the child module.
Like a walkie-talkie, you can talk to your child to reassure him or ask him to clarify his request.
Accessory functions :
Baby monitors can include a whole range of accessory functions, from the simple gadget to the truly useful:
VOX: The VOX function or otherwise known as... allows the baby monitor to operate only when it perceives a noise or movement. This function conserves battery life and reduces the amount of waves emitted over a given period of time.
Babyphone autonomy :
Once again, there are a number of factors to consider when choosing a baby monitor that's right for you. Here are a few parameters to help you choose the right models:
Fixed or mobile surveillance system
If your monitoring device is intended solely for your home, you may not need a baby monitor with a long battery life. You'll probably be using the mains most of the time.
On the other hand, if you're on the move, a battery-powered system with good autonomy will make your life easier.
Audio and video baby monitors
Most audio babyphone models are battery or mains operated. These products require only a small amount of energy to operate.
On the other hand, for video babyphone models, manufacturers almost exclusively use batteries to ensure comfortable use of the product.
How to make your baby monitor last as long as possible:
To avoid breakdowns and problems with a baby monitor, there are a few basic rules to follow:
The first and most important: "Read the installation, use and maintenance instructions" for your baby monitor!
Right out of the box, babyphones need to be set up correctly to ensure optimum operating conditions and long-term satisfaction.
Pairing the babyphone : Please refer to the installation instructions for your baby monitor. If you still can't pair your baby monitor, don't hesitate to contact the brand's technical support team for assistance.
Le choix du canal : In an urban environment, it is quite possible that your baby monitor will be disturbed by others. So look for the channel with the least interference, or opt for digital technology.
La protection de l'écran : If you have a video baby monitor, check that the screen of the parental module monitor has protective glass. If it doesn't, remember that a fall can happen very quickly, so we advise you to buy a screen protector;
Le transport : Baby monitors are mobile products, but they are also electronic products. So watch out for crumbs from changing bags and liquids from feeding bottles!
The battery: some batteries need to be completely discharged before being fully recharged, while others do not appreciate deep discharges...rely on the manufacturer's recommendations.
Please note that baby monitors are not toys, so we strongly advise you not to let older children play with them in the garden!
If you follow these few basic rules and choose a baby monitor that is durable, i.e. robust, reliable and repairable, you should be relatively safe.
However, no brand is immune to failure, and no product is infallible.
How to repair your baby monitor?
Baby monitors are small technological objects, and at first glance you're probably thinking that this type of product can't be repaired! But there's no reason why a baby monitor shouldn't be repairable.
In the event of a breakdown, check the warranties first:
If your babyphone is less than 24 months old, contact the distributor who sold you the product. In France, whatever he may say, he is legally responsible for the two-year legal guarantee of conformity. If they are reluctant, show them the

Article L217-3

of the French Consumer Code.

If your baby monitor is more than two years old, check that you have taken out additional insurance or extended warranty cover. You should also check the manufacturer's warranties, as these may be extended to take over from the legal guarantee of conformity.
Your device is no longer under guarantee, or the guarantee cannot be applied because you've broken it - don't panic! Baby monitors are absolutely repairable in the event of a fault. In all cases, first contact the after-sales service of the brand of your product, either directly with the manufacturer or via your retailer.
Power or battery problem on your baby monitor
Your baby monitor won't switch on, it switches off almost immediately, the sound is weak and the picture is poor. Before undertaking any repairs, always check that the baby monitor is correctly powered. There are several options:
Your battery may be dead. If the battery is out of order, your baby monitor will continue to operate on the mains. So do a test by powering the babyphone with the mains charger. If it lights up and works normally, there's no doubt about it!

Your babyphone won't turn on at all, so make sure the mains charger is still working. You can either test the output current with a multimeter or do a test with a charger that has similar electrical characteristics;

The last possibility is that the babyphone's mains plug has failed. You have two options: Change the circuit board or replace the faulty port (desolder and resolder);

Finally, remember to check that the problem isn't simply with the electrical socket, or that the baby monitor is supposed to work or recharge.

Test your plug with a lamp, for example, and test your baby monitor and its mains charger on a plug that works without a doubt.
Problems with sound or crackling on your baby monitor
Your babyphone, and in particular the parent module, is experiencing sound problems: the sound is weak or there are crackling noises:
First of all, check that the battery or mains charger is working normally. A lack of power can disrupt the baby monitor's functions.

The second basic rule is to check the volume control, as you or a child may have adjusted it without paying attention.

Before taking any more in-depth action, you can try changing the channel or frequency. It's not impossible for one of your neighbours to cause interference by using the same channel as you. You should also place your modules away from electrical or electronic equipment.

Also check that you are within the signal range. To do this, move the two monitors closer together. If the problem disappears, it was a reception problem and you were at the limit of the maximum distance between transmitter and receiver;

.

If, despite all these checks, the problem persists, you can check the state of your speaker by opening your babyphone (if it is no longer guaranteed). Speakers are either plugged in or soldered to the motherboard. In both cases, nothing is impossible, and if you don't have the necessary skills, get help at a Repair Café;

Finally, it may be that the problem goes deeper and comes from the electronics. Once again, there's nothing impossible about this, but it does require some knowledge of electronics;
Image problem on your audio baby monitor
Your video babyphone's monitor shows a distorted image, blue or green lines, brightness problems or whiteout.
Once again, check that it's not a power problem. Make sure the battery and/or mains charger are working properly.

To eliminate a range problem, move the two modules closer together. You can also try resetting your baby monitor and reinstalling it.

If the problem is the result of a fall, no miracle, the LCD panel will have to be replaced. Depending on the manufacturer, you may be able to find a spare part relatively easily. As for changing it, it's relatively easy. Use a tutorial or ask at a Repair Café;

The problem may not be with your monitor but with the camera. Check that the lens is not dirty or obstructed and that the brightness in the room is not a problem. Also pay attention to the night vision of the child module. Instead of infrared, some cameras are equipped with a series of LEDs, so check that these are working normally

If your screen hasn't fallen off and you've carried out the initial checks, you either have a problem with the connection between the screen and the circuit board, or a problem with the circuit board itself. An opening is necessary to check that the tablecloth is correctly connected.
NB: Some manufacturers may offer repair packages or parts from the circular economy. Think about it!
To sum up, to choose a durable baby monitor :
Choose brands with genuine after-sales support

Check not only the availability of spare parts over time, but also the lead times and prices of these parts. (Battery, electronic board, LCD panel...)

Make sure all priority parts are accessible. The baby monitor must be easy to open.

Check your needs in terms of signal range and autonomy

Find out about the quality of all the baby monitor's electronics, including audio and video.

Try handling the baby monitor to get an idea of its quality.
You want to buy a baby monitor, but like us, you'll have noticed that every comparison is more or less biased.


Take a look around our site. Products with the LONGTIME® label are certified sustainable by an independent and impartial audit. They are designed to last and meet 41 criteria of reliability, robustness and repairability;
Take a look at our product directory and you're sure to find what you're looking for!