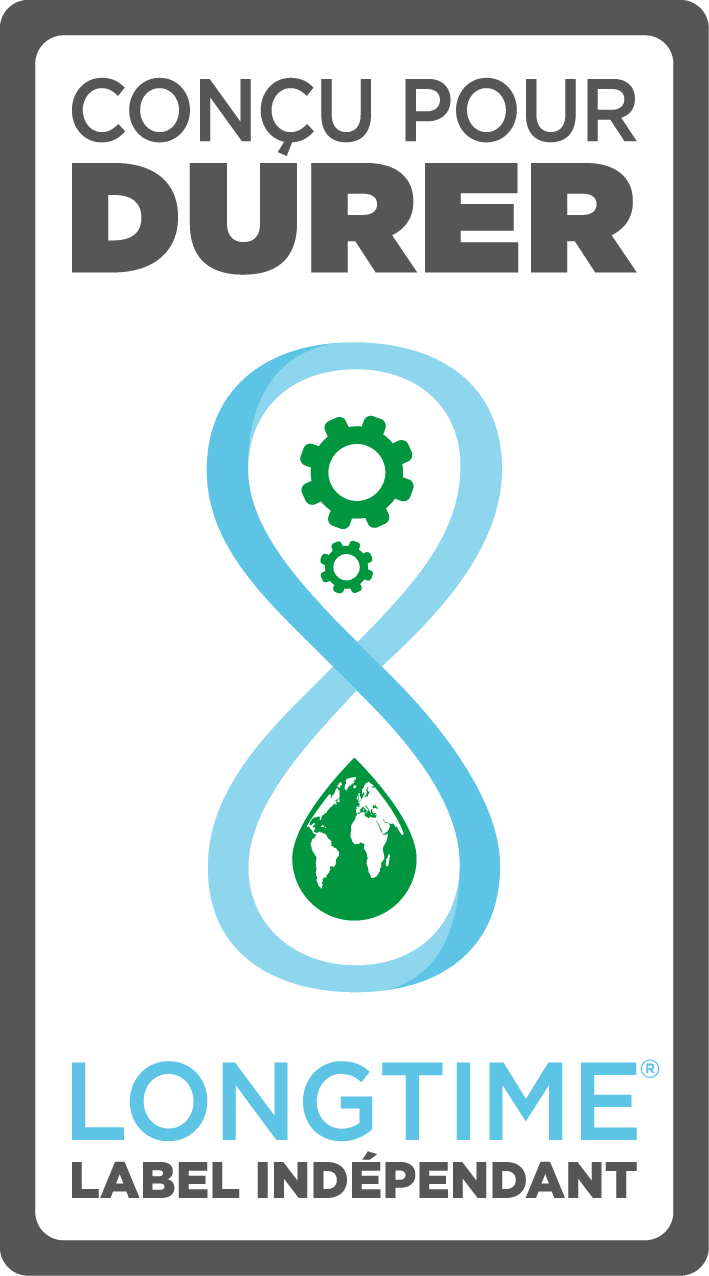 Balcony or garden, deckchair, chilienne or recliner, when the fine weather arrives and you're lucky enough to have an outside space, what could be nicer than enjoying a relaxing break in comfort? What's not to love about those convivial moments around the garden table, with friends and children quietly seated under the parasol? But with so many products available, so many different materials and so many different price ranges, it's hard to know which garden table to choose, or which solid, inexpensive recliner to choose.
Would you like to enjoy your garden with reliable, sturdy and repairable outdoor furniture? We're here to help;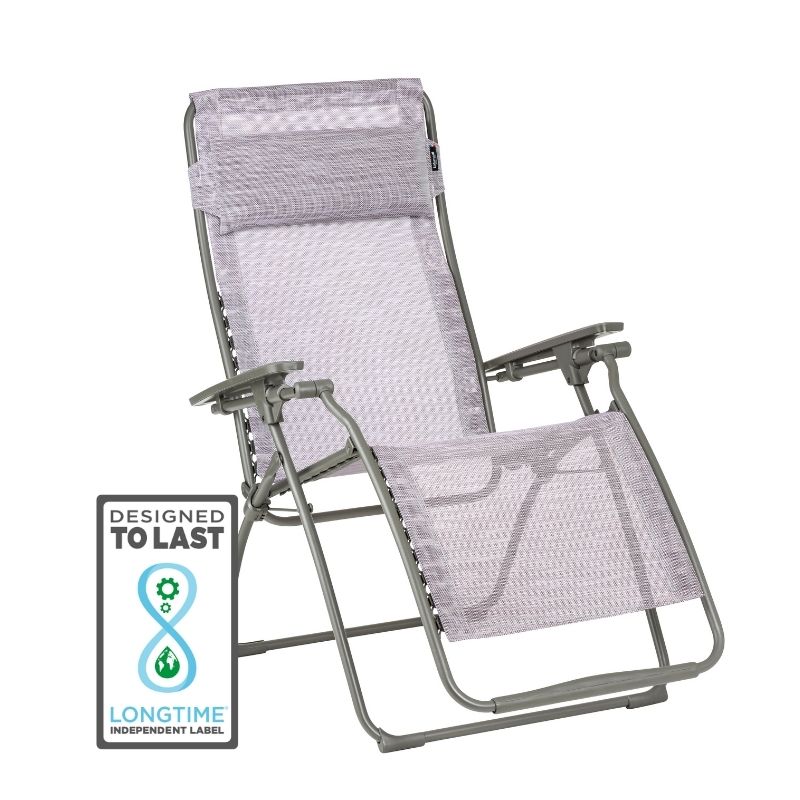 By sharing our knowledge, we want to help you consume better but less. Reducing consumption by choosing sturdy, durable products means preserving the environment and fighting against the waste of resources.

That's why we're giving you the keys and going into a little more detail about this family of products. If the rest of this article seems a little complex, simply put your trust in the LONGTIME® label.

Some garden furniture recently received the label after being independently assessed against our 41 sustainability criteria. And what's more, they're eco-designed!
How to choose outdoor furniture that lasts?
If you want to enjoy your garden furniture for many years to come, it's important to understand the factors that influence its lifespan. That way, you can choose the perfect set to enjoy your pool, terrace or balcony.
When we talk about garden furniture, which products are we talking about?
Garden or outdoor furniture includes :
outdoor table and garden furniture

outdoor chair or seat

sofa

deckchair, not to be confused with the baby hammock

pop-up

Chilean

relax

sunbathing on wheels

chaise longue

rocking chair

bench
And there are surely others.
For all these products, you will have to choose between 3 main categories: wooden outdoor furniture, metal outdoor furniture and plastic outdoor furniture (woven resin, pvc...).
Wooden outdoor furniture:
Wooden outdoor furniture appeals for its warmth and eco-friendliness. However, you need to be properly informed about the quality of the wood and where it comes from. To withstand outdoor weather conditions for many years, wood needs to be of high quality and properly maintained.
Metal outdoor furniture offers a wide range of shapes and colours. Perfectly suited to this category of products, metal has a very attractive quality, durability and price ratio. If the steel is of good quality (stainless and/or properly treated), your furniture should be able to withstand the test of time by applying a few rules of maintenance. It also has the advantage of offering a wide range of contemporary designs and a multitude of colours, from black to anthracite grey and white, as well as more vibrant colours such as blue, green and yellow; there's something for everyone.
Plastic outdoor furniture:
Plastic outdoor furniture has enjoyed phenomenal growth in recent decades. Inexpensive and rot-proof by nature, plastic furniture is nonetheless sensitive to UV rays and high temperatures. Only top-of-the-range products will offer you satisfactory comfort of use over time.
How do you check the reliability and sturdiness of garden furniture?
You've decided to buy outdoor furniture for your terrace or garden, but which one should you choose?
To ensure that you make a safe and trustworthy purchase, there are certain characteristics of outdoor furniture and certain specific points to which we recommend you pay attention; deciphering :
How do you check the reliability and sturdiness of a garden table?
When it comes to design, a garden table seems pretty basic at first glance.
Nevertheless, we recommend that you take the time to look at what's going on under the table. Check the quality of the assemblies (screws and bolts) and removable elements (extensions).
Also check the table's horizontal deflection and the available adjustments: if you push on the end of the table with your hips, it should remain perfectly stable and not warp. This is particularly the case with 6- or 8-seater tables.
On wooden tables :
Check the quality of the wood to ensure that the tabletop doesn't warp or warp.

Check the quality and accuracy of assemblies

Check perceived table quality and wood thickness
On metal tables :
Check steel quality and compatibility with outdoor climatic conditions (treated aluminum, steel with anti-corrosion treatment and coating).

Check the presence of foot pads and suitable stops

Check the quality of table welds and hardware
On plastic tables:
Check the quality of the plastic (polyrotin...) and its resistance to UV rays and fading.

Test the sagging of the central part of the tray
In the event of a problem or incident (breakage), the components should normally be removable and interchangeable. Obviously, if your table has a glass or wooden top in one piece, you will have to change the entire top. In any case, check with the manufacturer that spare parts are accessible and available.
How do you check the sturdiness and repairability of a relaxer, a pop-up armchair or a chilienne?
In outdoor furniture, chiliennes, pop-ups, deckchairs and other loungers are products generally made up of a tubular structure and canvas.
These are generally folding products, and therefore feature hinges or folding mechanisms.
The structure of these outdoor seats should offer a high level of resistance. Always check the product's maximum load-bearing capacity, which will give you an indication of its overall robustness. Some products use HLE steels, which are high-quality steels with higher mechanical properties, such as a high yield point (Re) and greater resistance to impact and fatigue.
If the structure has welds, give yourself a proper visual inspection to check their quality. Welds are weak points, both in terms of strength and corrosion.
To determine the quality of your outdoor chair's fabric, we refer you to the rest of this article.
Finally, as you will have realised, this type of product can only be repaired to a limited extent. That doesn't mean you shouldn't check whether you can change the fabric if it breaks or whether you can replace the locking mechanism.
How do you check the reliability and repairability of a relaxer?
Recliners are probably one of the most complex types of outdoor furniture when it comes to design. So it's important to take the time to check the robustness, reliability and repairability of the recliner you'd like to buy.
The structure of relax :
Relax almost exclusively features tubular structures made of ferrous materials. Tube diameter can be a quality indicator, but this is not always the case. For example, HLE steel tubes generally have smaller cross-sectional diameters, while at the same time offering superior mechanical properties to traditional steel tubes and being lighter; ideal for outdoor furniture that is generally nomadic.
NB: The footrest is a highly stressed component. Pay attention to its quality, as it often comes loose on poor quality recliners.
Fixing the canvas to the structure:
The canvas suspension system is an important factor to consider. The old-fashioned elastic suspension system has proved its worth, provided there are enough lacing points and the elastomer laces are of good quality.
More modern clip fastening systems have made their appearance on deckchairs, bringing a plus in terms of durability and repairability (not to mention comfort)!
The quality of the recliner fabric:
The first thing to check is that the cover is replaceable. When it comes to the quality of the fabric used on recliners, please read our box on fabrics below. The quality of the fabric will directly influence the load-bearing capacity of your entire recliner.
Mobility joints for recliners :
Position transformation mechanisms (folding, unfolding, vertical, semi-horizontal, horizontal) and position locking mechanisms
on recliners are key factors in the lifespan of this product category.
What could be more unpleasant than a relaxer that won't stay in its chosen position when you want to take a quiet nap?
The perceived quality must be beyond reproach. Check the play in the ball joints, the fit and the noise when opening and closing.
Which anti-corrosion surface treatments to choose for outdoor furniture?
Durability and resistance of primary anti-corrosion surface treatments and cover coatings for ferrous materials on outdoor furniture:
For outdoor furniture made from ferrous materials, the purpose of cover coatings is to prevent oxidation, particularly for products that do not use stainless steel or aluminium. It is vital that outdoor furniture is given a high-quality, durable, anti-corrosion and UV-resistant coating.
Here are some examples of anti-corrosion treatments:
Galvanizing

Cataphoresis

Powder coating, primer and finish (polyester or mixed polyester/epoxy)
To ensure the quality and durability of your furniture, these surface treatments require strict compliance with a rigorous process. These processes can even be certified as complying with quality standards.
Which fabrics to choose for garden furniture?
Whether it's a stretched or flexible fabric, a seat fabric, a backrest fabric or a cover fabric, the quality of the fabric used for your outdoor furniture will play a vital role in the lifespan of your product. In terms of comfort, aesthetics and above all durability, they must offer excellent resistance to bad weather and climatic conditions.
And when it comes to durability, there's no debate: technical fabrics take the lion's share. But what exactly is a technical canvas?
What is a technical canvas for outdoor furniture?
A technical fabric is made up of synthetic fibres. For outdoor use, technical textiles such as Batyline are made up of an extruded polyester core yarn and a PVC sheath, giving them mechanical properties that are absolutely compatible with outdoor use.
Elongation, poaching and breaking strength

Abrasion resistance

Resistance to outdoor climatic conditions





(humidity, mildew, heat, UV)
The downside is that this material is difficult to recycle at the end of a product's life. All the more reason to take care of your products.
What are the best textiles for outdoor use?
Technical textiles are not the only materials used outdoors. However, other available materials, such as natural fibres, which are less harmful to the environment, can be more or less effective in use. It is therefore important to define the intended use of the textile: stretched fabric, self-supporting, upholstery, padding, etc.
By way of example, here's a durability scale (which only reflects our opinion) for fabrics compatible with outdoor use:
Cotton = Not at all suitable for outdoor use

Polycotton = A blend of natural cotton fibers and synthetic fibers, polycotton is not recommended for outdoor use except for quilting or cushion stuffing.

Polyester = Can be used outdoors for decoration or as padding in the form of wadding, but polyester lacks mechanical strength for seating. It is rot-proof but UV-sensitive.

Acrylic = Synthetic fibre with limited outdoor use (mattresses, cushions, etc.) because acrylic fibres have poor abrasion resistance. It is rot-proof but UV-sensitive.

The

vinyl = A synthetic fibre, vinyl can be used outdoors, but only to a limited extent. On the one hand, it lacks breathability and, on the other, it is particularly sensitive to abrasion.

PVC = Synthetic fibre, PVC with polyester core is particularly recommended for outdoor use. It is rot-proof, breathable, UV-resistant and has solid mechanical properties.
What materials should you choose for your garden furniture?
Are you hesitating between different materials for your garden furniture or outdoor furniture? Is your heart torn between ecological considerations, sustainability and economic constraints?
A number of factors can influence your choice. To determine which deckchair, relaxer or garden table is right for you, it's a good idea to look at a number of factors and take stock of your needs and constraints.
Maintenance of outdoor furniture according to material:
Wooden furniture

In most cases, good maintenance is required to preserve its initial appearance and characteristics. This will vary depending on the grade of your wood.
The plastic

requires very little maintenance on the part of the user, who simply cleans and dusts it periodically to maintain its initial aesthetic appeal.
The metal

also requires very little maintenance. Periodic tightening checks, light lubrication of moving parts and cleaning/dusting.

Fabric,

fabric will require a different level of care and attention depending on its material.
The impact of climate on the choice of outdoor furniture :
Cold and/or damp


In the mountains, long periods of cold and damp are generally not appreciated by any material. In the case of steel materials, it will be necessary to choose truly rustproof structures. Plastic must also be of high quality to avoid being made brittle or porous by the cold and frost.
Heat and/or sun


Heat and sunlight are not usually the worst enemies of garden furniture. The first consequence will be discolouration, particularly for low-quality plastic products. Textile fibres, on the other hand, will be quite sensitive to this radiation, and this parameter should be taken into account.
Another particularly demanding environment is the seaside, where you need to choose furniture that is particularly well-suited to the environment. In salty environments, (quality) wood is appropriate. However, metal outdoor furniture can also be used if it has all the required qualities. Plastic can also be used, as it will only be slightly affected by salty environments.
The influence of outdoor furniture use and destination on your choice:
Terrace, balcony


In environments where space is at a premium, furniture is regularly handled, moved and scratched. So pay attention to the quality of paint and rubber feet or glides.

Swimming pool
Beware of discolouration of your liners when using chlorine in swimming pools. Although the dosage is relatively low, pool environments are still very demanding when it comes to furniture.
Yes, it's a factor to take into account. If you've been forcing yourself on the raclette this winter and you're posting a three-number score, or if you have a dense bone structure, remember to check the product's maximum load-bearing capacity in kilograms.
How much to invest in garden furniture
How much does a quality outdoor table, garden furniture, sturdy relaxer or chilienne cost?
In the outdoor furniture market, the differences in price can be as great as the differences in quality. So it's not easy to answer this question.

The price of the furniture will be largely influenced by the quality of the materials it's made from (legs, top, technical fabric, structure), but also by the design and quality of the conception. Production also has a major influence on the price of your future chilienne, for example.
Obviously, there's a considerable price difference between a deckchair with a polyester canvas, made of poor-quality steel, poorly welded and covered with a simple rustproof paint, and a deckchair made of HLE steel, equipped with a technical Batyline-type canvas, polyester powder paint and accessories such as a neck cushion or cup holder.
But the difference in lifespan will also be considerable.
Finally, technical support and customer service will also have an impact on the price of the product. Don't be fooled: on most no-name entry-level products, you won't find any spare parts once the legal guarantee of conformity has expired.
In the table below you will find a few orders of magnitude for prices based on materials and furnishings:
How to make your garden furniture last as long as possible:
Two factors will play a decisive role in extending the life of your garden furniture. To avoid disappointment, here is a short list of basic rules to follow to extend the life of your outdoor furniture:
Choose materials and products adapted to the climatic constraints of your living environment (snow, salt spray, high humidity, heat).

Choose furniture that meets your maintenance requirements (cleaning, storage)

Avoid entry-level products

Check availability of spare parts (base, seat cover, buffer, conversion mechanism)

Comply with usage and, above all, maintenance instructions
If you observe these few basic rules and have chosen a durable outdoor seat or table, i.e. one that is sturdy, reliable and repairable, you should be relatively at ease.
Bear in mind that outdoor furniture is subject to the vagaries of the weather, and that these are becoming increasingly extreme. Although quality garden furniture, such as that bearing the LONGTIME® label, is designed to withstand many hours of exposure to UV rays or heavy rain, it will appreciate any care you give it.
You've understood that garden furniture requires a few precautions when in use, and simple but crucial periodic attention to extend its lifespan.
To care for your outdoor furniture, it's important to "Read the use and care instructions" for your table, relaxer or chillian.
How to maintain wooden garden furniture
We could write an entire article on this subject, as it is so vast. But we're going to try and keep it as simple and succinct as possible:
If your wood is varnished, check the integrity of the varnish annually and, if necessary, take out the elbow grease to sand and re-varnish the product.

If your wood is oiled, clean your product and renew the protection with a suitable wax.

Your wood is classy...
For the winter period, and unless your wood is really of a very high quality, we advise you to protect it well over the cold season.
How do I care for metal garden furniture?
If you've chosen quality metal garden furniture, you'll have very little maintenance to do. If not, beware of rust!
Periodically check foot pads for wear.

Lubricate all moving parts of your furniture (relaxer hinges, extension slides, folding chairs) with a suitable lubricant.

If the anti-corrosion coating is scratched, protect it with a suitable product (varnish, exterior metallic paint).

Regularly check screws and bolts for corrosion.
How do I care for plastic garden furniture?
This is certainly the easiest category to maintain. If you've invested in quality products, you'll need to do very little.
Clean surfaces from time to time.

Winterize your furniture, especially in colder regions, as plastic doesn't like frost.

Try to protect it from constant sunlight. Composite materials often suffer from UV rays.
How to repair your garden furniture?
After all, a table or a chair doesn't break down! But the extension mechanism on your table may have failed, you may have dropped a large cast-iron casserole on the tabletop or torn the fabric of your chilienne. Obviously, the best breakdown is the one that doesn't happen. No brand is immune to failure and no product is infallible!
Why does my deckchair squeak? Why is my table rusting? Why is my extension cord jammed? Why is my recliner wobbly?
Do any of these questions sound familiar? We're here to help!
If you have a problem with your outdoor furniture, check the warranties first:
If your table or chair is less than two years old, contact the distributor who sold you the product. He is responsible for the 24-month legal guarantee of conformity.

If your product is more than two years old, check whether you have taken out additional insurance or extended warranty cover. Also look at what guarantees the manufacturer offers, as these may be extended and take over from the legal guarantee of conformity;
Don't panic, some repairs are child's play!
There are several points to check before declaring your product out of service:
In all cases, you should first contact the after-sales service of your product brand, either directly with the manufacturer or via your retailer or distributor.

Before undertaking any repairs, always check that you have a sufficient knowledge base, or that you have access to repair tutorials.

Does your relaxer squeak? Check the various tightening points. The same goes for all your furniture: with time and temperature changes, assemblies can become loose and need to be tightened. You can also lubricate the various moving parts.

Rust spots appear on the feet of your chilienne, for example: check the presence and integrity of the rubber foot pads.

Water or rust dripping from your table? Check all waterways for leaks, and replace rubber plugs if necessary.

Have you broken your tabletop or damaged it badly? Depending on the tray design, you may be able to change the damaged part.

The glass top of your table is curved. Try to straighten it with a glass-hammer.

The fabric of your chilienne, relax or pop-up has torn. Check with your distributor or manufacturer to find out whether you can change the fabric.
Garden furniture repair tutorial
If you're a bit of a handyman, you can solve a lot of problems by DIY (self-repair). The Internet is full of instructional videos and there are lots of self-help groups on forums.
You'll find invaluable advice on how to maintain and use your garden furniture. And don't forget the help you can get from Repair Cafés for small breakdowns.
When it comes to durability, make sure that the manufacturer of your outdoor furniture has a high-quality after-sales service and/or technical support. All LONGTIME®-labeled products are repairable, so don't throw them away.
NB: The price of parts on furniture
For furniture in general, the number of parts that make up a product is relatively limited. For example, a pop-up armchair contains two parts: a metal frame and a canvas. In the event of replacement, the cost of the spare part may be relatively high, up to 50% of the price of a new product. This is to be expected, since the fabric of a pop-up is likely to account for 50% of the production cost.
To sum up, to choose the best garden furniture or outdoor furniture :
Take stock of your needs and constraints (usage, climate)

Choose companies and brands with genuine technical support and proven expertise

Check not only the long-term availability of spare parts, but also their prices.

Make sure the fabrics you use are of the highest quality and compatible with outdoor climatic conditions.

Choose products made from materials that are fully compatible with long-term outdoor use.

In the case of steel, check that the coating paints are of the highest quality, UV-, weather- and scratch-resistant.

Try to handle the product to hear its sound and feel the quality of its materials and assemblies.
Would you like to buy reliable, sturdy, durable garden furniture without a degree in materials engineering, and without reading 10 rigged comparisons?
Take a look at our product directory and you're sure to find what you're looking for!