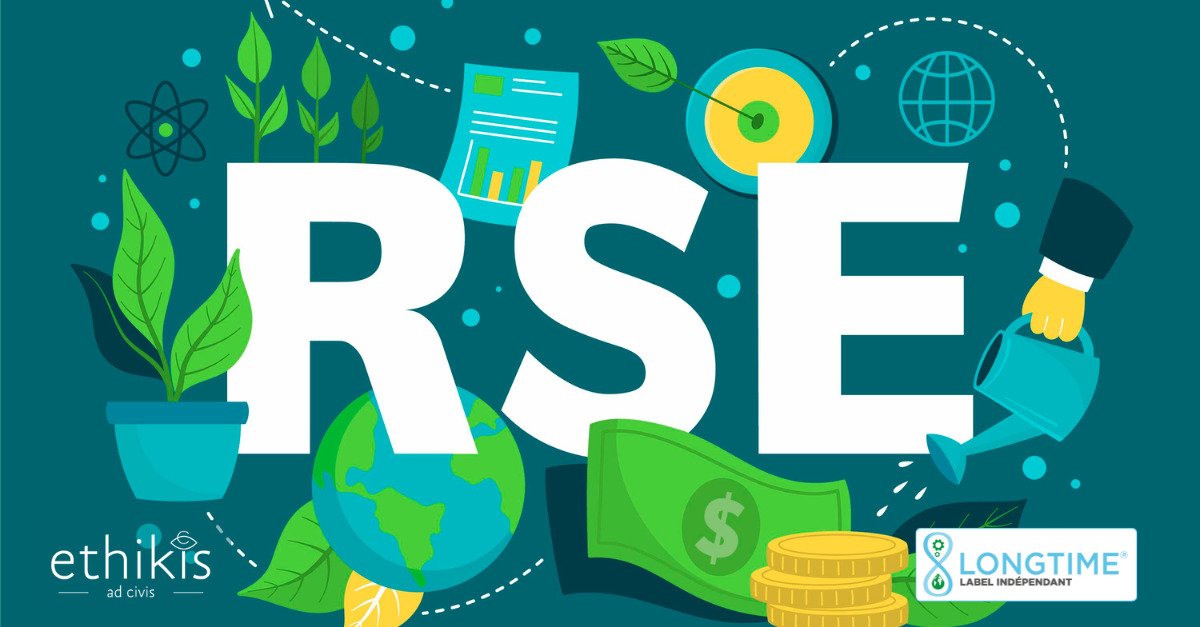 As we shall see in this article, the concepts of CSR and sustainability are very closely linked. As a result, once certification has been obtained, it can be very useful to use a sustainability label such as LONGTIME® as part of your CSR approach.
How do you explain CSR simply?
To explain CSR, we first need to define it: an acronym for Corporate Social Responsibility.
A relatively recent concept, it is closely linked to the concept of Sustainable Development or SD, and can be seen as a code of conduct for achieving SD objectives.
CSR is a set of initiatives and guidelines that enable an entity to develop its business while respecting the environment and the well-being of its peers.
This notion of seeking the common good is far from recent. It has existed since the very beginnings of human development, through communication, mutual aid, taking everyone's opinion into account, and respect for others and the environment.
In other words, to put it succinctly, CSR is the contribution made by companies to the challenges of sustainable development.
As far as related texts are concerned, there is the ISO 26000 standard, for example, which sets out the main principles and guidelines for developing your organisation's CSR in practical terms. The majority of companies are beginning to realise the importance of developing this responsible vision, whether in terms of social challenges, brand image, marketing, economic or deeply altruistic reasons.
What tools are available to support CSR development?
There are a number of tools available to provide concrete solutions and support structures in developing their CSR code of conduct:
CSR consulting, CSR training, self-diagnosis, CSR and extra-financial reporting tools, LCA, carbon footprint, CSR management software, standards, eco-design support…
Unfortunately, most of these tools are unsuitable for small organisations because of their cost and the human resources/training they require. There are also a number of CSR labels that can help companies structure their approach while promoting their actions. Here are just a few: engagé RSE, Bcorp, écovadis, Label Numérique Responsable, Positive Workplace.
The business model of a label is based on annual fees, the amount of which is a percentage of the turnover achieved by the labelled structure. These fees are usually capped at around ten thousand euros a year, and start at a few hundred euros for organisations with the lowest turnover. The labels are therefore suitable for large organisations, as well as for small and medium-sized enterprises and very small businesses in terms of cost;
How does the LONGTIME® label fit into your CSR approach?
LONGTIME® is an independent label for consumers. Born in France but with a European and even international scope, it was developed to encourage the manufacture and consumption of products that are more sustainable over time.
By encouraging consumers to make better choices and manufacturers to produce more efficiently, LONGTIME® aims to contribute to the reduction of premature waste and the rational use of materials, while addressing related social challenges.
The LONGTIME® label encourages a circular economy and champions the repair sector, a skilled and local field of activity. Our activity gives everyone the means to take action to extend the life of products. LONGTIME® is a positive communication tool, a benchmark for product sustainability and a practical solution that promotes the extension of product life. The negative environmental externality associated with obsolescence is thus curbed.
If you're reading this article, you may have already initiated a CSR strategy, and, whatever its level of development, you're looking to improve or optimize it through appropriate actions and management.
The CSR development framework is divided into 8 main stages.
Depending on how far you have progressed, these stages may hold no secrets for you, or, for others, certain stages may still need to be put in place. Here is a summary of how the LONGTIME® label can be integrated into each of these stages.
Stage 1: Definition of CSR scope and challenges, expectations and project team (with a designated CSR manager if possible).
Definition of the scope of products to be labelled with the help of the label teams.
Step 2: Carry out a diagnosis of practices and impacts, list activities (processes), potentially integrate CSR/QSE, 9001 and 14001.

An internal diagnostic tool
is available on our website to help you assess your sustainability performance.
Stage 3: Stakeholder consultations :
Stakeholder relations are at the heart of a corporate social responsibility code of conduct. The labelling process involves in-depth dialogue with the producer's stakeholders (distributors, suppliers, subcontractors, in-house technical teams, design office, after-sales service, etc.). We can help you to focus these discussions as effectively as possible.
Step 4: Create one or more Materiality Matrices to identify stakeholder expectations.
You can draw up your materiality matrix with regard to the sustainability of your products, following consultation with your stakeholders.
Step 5: Prioritize guidelines and budget management.
The cost associated with a LONGTIME® certification process is fully adapted to your organization's sales, so that the associated budget is consistent.
Step 6: Define an action plan to engage teams and train them if necessary.
The LONGTIME® label teams will work with you to raise your teams' awareness of the sustainability and repairability of your products, and will support you step-by-step right up to the certification audit. This enables you to define a concrete action plan, defined in terms of time and key stages.
Step 7: Implement and manage actions and ensure follow-up using SMART (Specific, Measurable, Achievable, Realistic and Time-bound) indicators.
The LONGTIME® label teams provide you with an audit preparation and reporting tool, enabling you to track your progress using SMART indicators.
Step 8: Communicate and promote the approach, build or join a business network.
Once your product(s) has/have been awarded the LONGTIME® label, you can communicate its/their durability. You can also include LONGTIME® in your extra-financial report. (second part of this article).
What areas of ISO 26000 action does the LONGTIME® label cover?
With its international approach, ISO 26000 backs the social responsibility of organizations with the recognition of universal principles.
What are the 7 core questions of CSR?
The ISO 26000 standard sets out guidelines based on 7 principles and 7 central questions, which form the basis for the operational development of an organization's (or structure's, company's) societal (or social) responsibility and its contribution to sustainable development. The 7 core issues are: Governance, Human rights, Social, Environment, Fair practices, Consumers, Local development.
The 7 Core Issues (such as human rights) are broken down into 36 Action Areas (AA). Each DA is illustrated by around 300 Expectations and Associated Actions (AAA).
These 3 levels of construction give the organization a global vision of the issues to be addressed, and enable it to plan ahead with its employees.
The LONGTIME® labeling process is based on 3 out of 7 central questions and more than 25 expectations and actions defined in the ISO 26000 standard! They are summarized in the list below:
Core issue 1: Governance.

Stakeholders are identified

Dialogue with stakeholders is developed

Employee participation is encouraged

Strategic CSR projects are implemented to meet the objectives and challenges of

Projects are assessed for their impact on CSR challenges

A stakeholder communication strategy is established

The company participates in independent certification programs

Reports are assessed by independent, competent third parties
Core issue 4: Environment.

The manufacturer's responsibility for resource use is extended to its sphere of influence.

Sustainable consumption is promoted

Focus on energy efficiency of purchased goods

Suppliers using sustainable technologies are favored
Core issue 6: Consumers.

Product information is provided in the official language of the country.

The product description is complete, accurate, comprehensible and comparable.

Product compliance with regulations is checked

Clear customer information accompanies the product

Instructions specifying the product's conditions of use are sent to the customer.

Instructions for handling and storing the product are given to the customer

A commitment to develop sustainable consumption is defined

End-of-life products and packaging are easily reusable, repairable and recyclable.

High-quality, long-lasting products at affordable prices

A reference label such as ECOLABEL can be used to communicate CSR aspects.

A commitment to efficient after-sales service is defined

Product returns after purchase are allowed within a specified period.

Guarantees going beyond the legal aspects are offered to the customer

After-sales service and dispute procedures are easily accessible to the customer

Technical assistance is offered to customers on how to use the product.
You now have a very concrete version of how the LONGTIME® labeling process fits in with the action areas and expectations of the ISO 26000 standard. Now, how can we effectively communicate the contribution of the LONGTIME® label to the expectations and actions listed above? One way of doing this is to include it in a non-financial or CSR report.
How do you write a non-financial report?
The extra-financial report is a highly relevant tool for communicating in terms of CSR. Although there are tools available for writing such a report, you can also write it yourself – we'll help you find out how.
What is the definition of a non-financial report?
Definition: According to the French Ministry of Ecological Transition, a non-financial report – also known as an ESG report or CSR report – is a document that "communicates on the social, environmental and societal implications of its activities, as well as on its mode of governance".
Extra-financial reporting concerns "the publication of non-financial and diversity-related information by certain large companies and groups".
What are the differences between non-financial reports, CSR reports and EPRs?
What are the differences between these three names for a document reporting on environmental, social and economic practices?
Extra-financial reporting is the generic name for reporting by European and international companies, which translates into the declaration of corporate extra-financial performance (DPEF).
The CSR report is a periodic, official document published by companies, usually on an annual basis. It records CSR actions and results.
The CSR report and the DPEF are two documents that communicate our CSR approach and are based on sustainable development. The first is a list of CSR indicators and associated strategies. The second is an assessment that enables companies to identify their priority issues and draw up commitments to which they will be obliged to respond.
Which companies are concerned by the extra-financial report and the associated CSR approach?
Large companies are obliged to draw up their DPEF. It remains a very useful document for SMEs that can be produced voluntarily. By law, the following companies are required to draw up this document:
What does the law say in France? Decree No. 2017-1265 of August 9, 2017 frames the characteristics of companies subject to the drafting of the extra-financial report:
All listed companies with a balance sheet total of €20 million or net sales of €40 million and 500 employees. If the company is unlisted, total balance sheet or sales must represent 100 million euros with 500 employees.
How do you write a CSR or extra-financial report that includes the LONGTIME® label?
The declaration of non-financial performance contains information on the main areas of sustainable development:
Social data: employment within the company, health, safety… Here we find the major themes of quality of life at work and working conditions for employees. The social aspect is an integral part of the report.
Societal data: anti-discrimination measures, gender equality, integration of disabled workers.
Environmental data It covers the company's overall environmental policy, pollution management, recycling and waste management, as well as the use of sustainable alternatives (circular economy, protection of the environment and biodiversity, eco-design). The environmental aspect is at the heart of the LONGTIME® labeling process. You can therefore easily promote the LONGTIME® label in this section, for example by recalling the areas of action covered by the ISO 26000 standard, as described above.
Your extra-financial report is an excellent way of complying with the law, while at the same time communicating concretely in terms of CSR and, in particular, environmental improvement, by including concrete elements linked to the LONGTIME® label and the sustainability of your products.
Here are some additional recommendations for communicating your commitment:
Be actively involved in a sustainable development approach to be able to fully communicate your policy, such as the LONGTIME® label, which can be used in a non-financial report. Your company gains in credibility and value thanks to this label, especially as the audit is carried out by a recognized third-party verification body. The environmental impact of your products is reduced by extending their lifespan.
Communicate on your networks, don't hesitate to communicate on the LONGTIME® label, we'll provide you with the necessary visual elements.
Create/join a community. Being LONGTIME® certified also means joining a growing community of manufacturers who are committed to the sustainability of their products, and creating a privileged dialogue with this community, by forging new relationships.