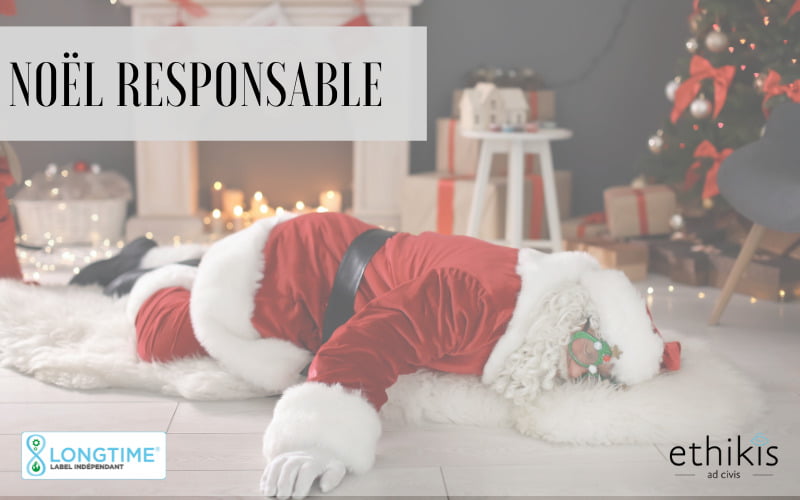 In just a few days, the festive season will be upon us. Conviviality, meals with friends, family time and…over-consumption! In a tense global context (epidemics, geopolitics, inflation, energy crisis…) we all need to breathe and relax. And yet, it's possible to enjoy the benefits without putting ecology on the back burner.
Everything can be summed up in the maxim "Consume less but consume better".
Our holiday behavior can have a considerable impact on the environment, but the good news is that it's not that difficult to do better.
How do the festive season generate impact?
Any ideas? Gifts, of course. Ademe details the impacts in a study entitled "SOBRIETY: HOW CAN CHRISTMAS MAGIC AND ECOLOGY BE COMBINED?", and a tutorial entitled "How to organize a greener Christmas?
Gifts account for 60% of the greenhouse gases we generate during the festive season. Next comes travel (25%) to visit family or go on vacation. Next, food accounts for 15% of impacts, followed by decoration (2%) and waste (1%).
In a study entitled :
How to have a responsible holiday season?
For an eco-friendly Christmas and, more generally, an eco-friendly holiday season, here are the key points to bear in mind.
Give lasting gifts:
Clothing, digital products, electronic household equipment, toys, books, delicacies… end-of-year gifts account for over 50% of the impact of the festive season. But the good news is that sustainable equipment solutions exist for all these categories.
The first thing to watch out for is low-cost products and the temptation to give for the sake of giving. A price that's too low often conceals significant social or environmental impacts. But what do you do when you want to give beautiful gifts but can't afford to?
Instead, offer a well-crafted woolen hat made in Europe or bought second-hand, rather than a fast-fashion hat, scarf and pair of gloves.
Give a refurbished phone instead of an entry-level model
Give the gift of a sturdy, easy-to-use kettle rather than a high-tech, temperature-adjustable, connected teapot at an unbeatable price.
You get the idea.
Secondly, keep in mind that not all gifts are equal when it comes to environmental impact. It's no secret that high-tech products are by far the most impactful. To get off the beaten track, you can offer cultural events, shows and woodworking workshops. There's so much to explore.
Finally, for children, don't hesitate to opt for toys containing as little plastic as possible (it's not easy), as battery-free as possible and with low emissions of volatile organic compounds.
You can also apply the following rule of thumb:
A gift to play with
A wearable gift
A gift that reads
To conclude on the subject of gifts, as the LONGTIME® label for products designed to last, we invite you to choose products that are reliable, robust and repairable.
Optimizing travel :
It's not easy to reduce the impact of Christmas travel. If possible, travel by train or carpool, and avoid flying as much as possible.
A gourmet and local meal:
To make your end-of-year meals as eco-friendly as possible, follow the same recipe as for gifts: choose quality over quantity. Vegetables in season and, if possible, organic and short-distance produce, while trying to limit meat consumption or at least keep it to a minimum.
Don't bite off more than you can chew. There's a lot of food waste at Christmas, and we always eat too much! If you follow this rule, you'll also be thanking us after the holidays when it's time to get back into the swing of things.
The tree and decorations :
The last point on which you can act for a more sustainable Christmas is decoration.
If you opt for a real fir tree, choose the most local species possible.
Reusable wooden Christmas trees have the advantage of being very low-impact on the environment. When it comes to artificial Christmas trees, there's no mystery: they're made of plastic, and therefore derived from petrochemical processes.
You can also take action by using gift wrapping paper made from reusable fabrics or recycled paper such as newsprint (while avoiding newsprint!).
Finally, when it comes to decoration, choose natural materials such as wood, terracotta or recycled materials with low energy consumption. Equip yourself and don't hesitate to do it yourself. The Internet is full of DIY tutorials for making natural decorations.
As you can see, it's possible to indulge yourself and be happily sober at the same time. So it's up to you to enjoy the festive season.