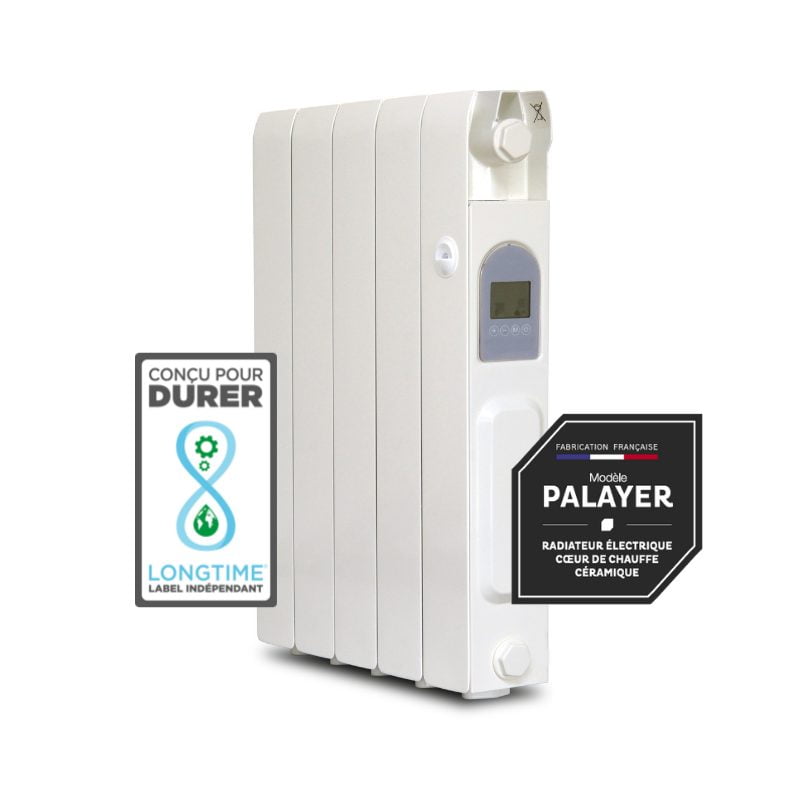 The "Palayer" electric ceramic heater by Univ'R Chauffage is a High Performance model providing excellent heating comfort and energy savings. Durable, the "Palayer" range has been awarded the LONGTIME®️ label thanks to its intrinsic qualities of robustness and reliability in full accordance with the label's criteria. The heating core of the radiator, made of 100% French and natural ceramic, is extremely robust. This exclusive ceramic material integrates the electrical resistances according to an original method developed by Univ'R Chauffage for greater inertia. The other essential components of the electric radiator are not to be outdone, from the electronic and thermostatic management designed and developed in France to the aluminium of the heating body, durability is the key word. The result: a reliable, durable product, offering a rapid rise in temperature for a very slow return of heat.
10 ans
Availability of spare parts
August 2020
à August 2023
The 100% repairable nature of our radiators […] leads us today to go one step further by obtaining independent recognition from a label that is attentive to this principle.
We want to show that an SME such as ours can offer quality products that are environmentally and consumer-friendly.
The LONGTIME® label allows us to commit to an eco-responsible approach while offering high-performance, durable and repairable appliances for consumers.
The label is both a recognition of the business expertise of our manufacturing teams and a sustainable service offer for our customers.
Bruno Giorgi
Univ'R Chauffage CEO