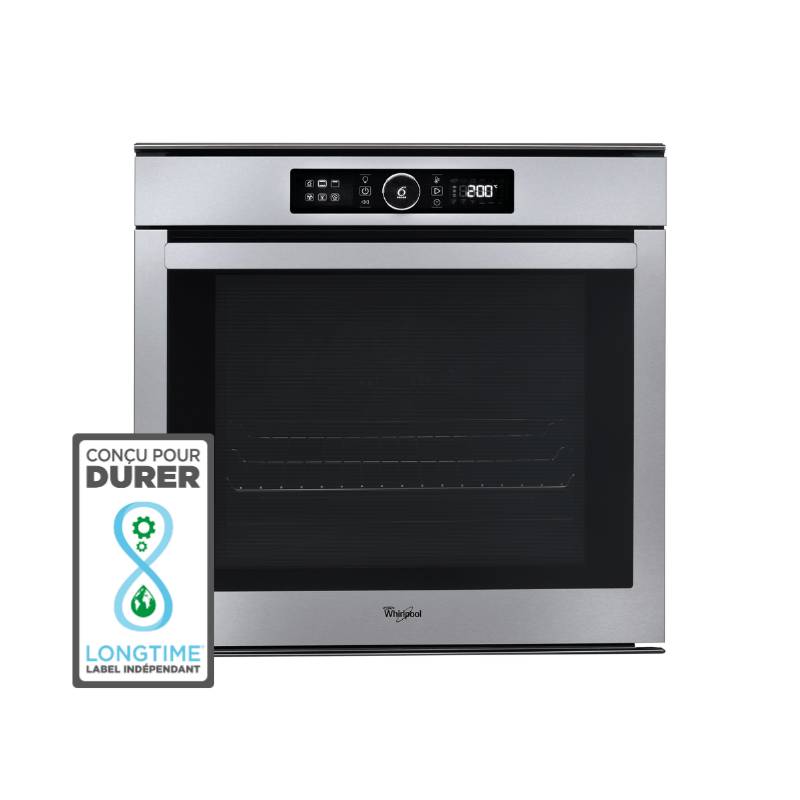 The 6th Sense Absolute Oven will make your life easier with its central control knob. You can easily choose one of its multiple functions or select for the 6th sense mode which will guide you to cook 6 categories of dishes, choosing for you the cooking mode and the optimal temperature. Simply enter the desired cooking time and start cooking.
The no Pre-heating function of this oven is based on a powerful rotating heat system which allows the desired temperature to be reached quickly without having to wait until the pre-heating of the oven is completed.
The revolutionary iXelium coating protects the stainless steel from yellowing and wear over time. This unparalleled protection ensures a long-lasting shine with minimal maintenance.
10 ans
Availability of spare parts
January 2021
à January 2024
By this certification, Whirlpool France affirms its commitment to offer consumers long-lasting and easily repairable products. Choosing to use the independent LONGTIME® label proves that our commitment is concrete. As a leader and responsible player, Whirlpool wants to be a forerunner in making our sector's practices more virtuous and respectful of the planet. We will therefore continue to pursue our proactive sustainable development strategy, in line with the commitments of Whirlpool Corporation, which has been responsible for more than 60 years.
Pierre Duchier
Whirlpool France CEO