How to consume sustainably during Black Friday?
It's no coincidence that the EWWR (European Week for Waste Reduction) organized by ADEME* ends on
Black Friday
.
Increasingly present on the airwaves and in the press, ADEME and players in the circular economy are trying to raise public awareness of ecogestures and limit the harmful effects on the environment of over-consumption driven by end-of-year commercial operations.
The week before the consumer madness generated by
Black Friday
is a good time to remind ourselves a few principles of reason.
In France, the amount of household waste has doubled in 40 years. We buy more products, more frequently, and they are increasingly short-lived. Either because they're unreliable, or because we don't repair them as much anymore, or because we simply want to change them even when the product works.
Rethinking consumption
Rethinking consumption to make it more responsible makes it possible:
contribute to the management and

preservation of natural resources

#antigaspi

from

limit the environmental

when manufacturing a new product #empreintecarbone

from

reduce the costs, pollution and social impact

associated with waste management.
How can we consume better?
The marketing power of
Black Friday
type operations is to play on the real or supposed financial promotion of a product over a short period to create desire and activate purchase, whether or not the need is present.
This notion of

need

or even

use

which is central here to better consumption. Of course, you can take advantage of a promotion as long as the product in question fulfils the purpose(s) you need it to fulfil.
The trap is to buy a partially or totally useless or unsuitable product because it's on promotion and the impression (the pressure?) of getting a bargain was too strong.
In the end, consuming more responsibly means taking the time to ask questions:
What do I really need?

Aren't these needs exaggerated? Or oversized?

Is there a product that combines several functions to meet these needs?

Don't I already own another product that could be used for this purpose?

Can't I repair a product before buying a new one?

Or resell a product before buying a new one?

Is this product available second-hand?
You can follow the BISOU method described on the following page by our partner ethikdo, as well as other positive alternative solutions https://www.ethikdo.co/blog/methode-bisou-anti-surconsommation/
These are, in fact, just common sense questions that we have somewhat forgotten over the years, in favor of hyper-facilitated multi-channel consumption activated by aggressive commercial actions.
Find the (truly) responsible offer
Once we have a clearer picture of needs and uses, we can tackle peak consumption periods like Christmas with greater peace of mind and better tools.
All that remains is to identify the responsible online or in-store offer that can meet these needs. Many brands and distributors are adopting a green" marketing and invoke environmental attributes at every turn, which proves that this is a real market expectation.
This is rather good news, even if the diversity and lack of transparency of most of these environmental labels is somewhat confusing and confusing for consumers looking for a responsible offer.
So how do you identify this responsible offer, with the aim of countering the Greenwashing or Greenwashing of many players that has been eroding consumer confidence for several years now?
There are a number of independent labels, i.e. those that require a transparent certification process carried out by accredited third-party bodies. Some are now well known to the general public, such as organic food labels.
But for all those who are looking to make or to treat themselves to "certified sustainable end-of-year gifts and who want to consume less but better, we can point you in the direction of products with the LONGTIME®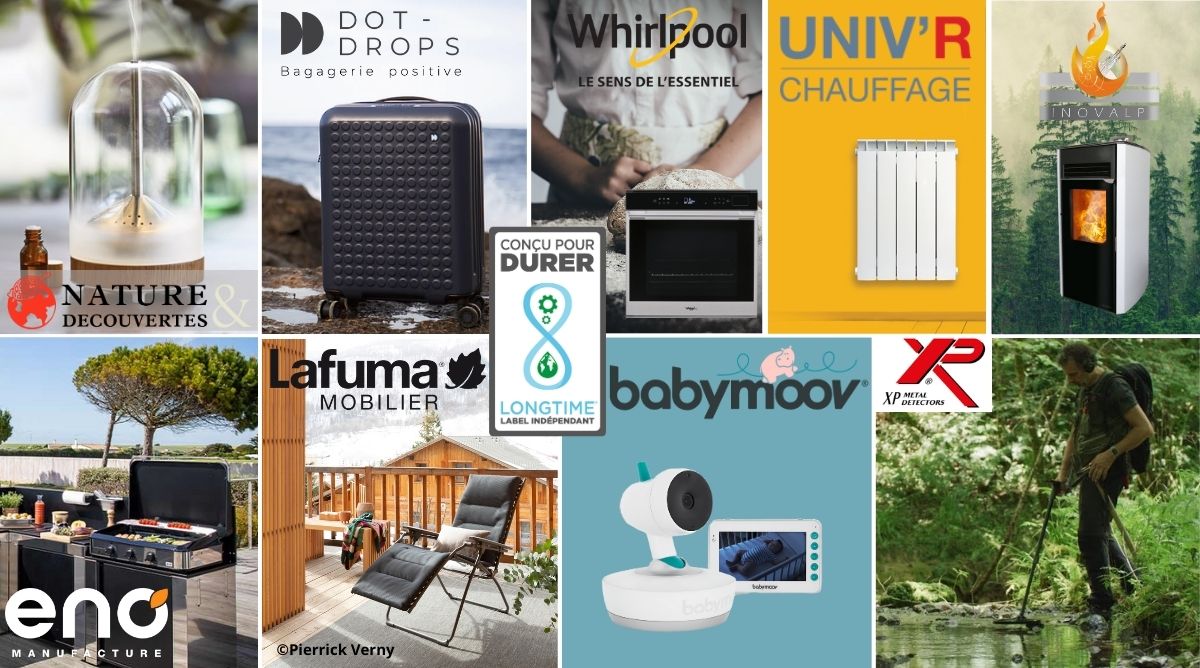 Travel responsibly

with the infinitely repairable suitcase


Give the gift of

lasting well-being

with the Tilia essential oil diffuser from

Nature & Découvertes


For

treasure hunting enthusiasts

you can offer metal detectors

XP Metal Detector

the pioneer of durability in the tourism category!

Stay warm this winter with durable radiators Univ'R Heating and pellet stoves Hoben and AlpenWoodWe are committed to finding the best, most environmentally-friendly heating solutions for the future.

Have you found the

family recipe
Christmas turkey? In any case, you can count on ovens designed to last
Whirlpool

LONGTIME® approved


"

Ensure baby's safety

and protect the planet" with sustainable babyphones

Babymoov


Anticipate spring

with sustainable outdoor furniture from

Lafuma Mobilier

and Eno

Eno planchas

planchas that stand up to the most extreme conditions!

Products designed to last

These products, designed to last, have all earned the LONGTIME® label, based on highly demanding specifications focusing on reliability, robustness, repairability, technical support and all the components of durability.

Our ambition is to restore trust between consumers, responsible brands and committed retailers.

There are many other positive initiatives that offer alternatives to aggressive commercial operations. Let's talk about them, share them and return together to a more responsible way of consuming!